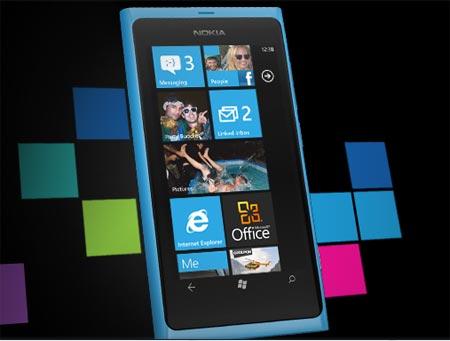 Windows Mobile 7.5, i.e. Windows Mobile Mango was launched officially in India recently but the only Windows phone that I can talk about it probably the Nokia Lumia. That is not really a phone that builds up an aspiration to buy such phones. Even the ads are a bit firang, for desi tastes at least. The amazing everyday campaign does not seem to connect with consumers either.
What Windows phones need is multiple phones at various price points for the consumers to be able to choose. But before that, what is really needed is an iconic phone that will help drive an aspiration for Windows phones. From what I have seen of the Windows phones and from what I hear from some of my distinguished colleagues (distinguished in the field of technology), this OS is an awesome piece of software. The Metro style text and social life integration into the OS is really good. One of my friends mentioned this is a zero depth OS which means that it doesn't have separate perceived depths between say buttons and other text - this is supposed to do a whole lot of good for the performance of the system, even better than Android.
So, Windows finally seems to have got something right but why is it then that there isn't a lot of marketing muscle that is being flexed either from Microsoft or from Nokia? To their credit, Samsung and HTC did come out with some neat WM phones but again, someone needs to take up the responsibility of driving the marketing buzz. I am not quite sure how things panned out in the case of Android. Back then, (which was not a very long time ago) Samsung, HTC, Motorola and even the Micromax of the world went all out on Android and promoted their own Android devices - probably because green and mean Andro was perhaps the first competitor to the iOS. One could really get that iPhone like effects for far lesser dough - so the manufacturers marketed and the consumers lapped it all up. Now, with that sort of history, it would make sense probably for a Samsung, HTC and of course, good old Nokia, to drive the marketing for WM. But is Samsung worried that too much of Windows marketing could eventually help competitors like Nokia take gains out of their efforts? After all, as I see from my interaction with umpteen number of people, a lot of people still regard Nokia as a better quality phone than the Korean Samsung! Yes, I have to live with this kind of people also, even today! But Nokia does have a way with build quality and of course the famed Nokia reliability of the basic phone that one could throw from the balcony and yet all one had to do to start making calls was to just put the battery in the slot and voila!
We would like to see ads with more consumer engagement
So, maybe Samsung and its kin have reason to limit the advertising for Windows Mobile, especially given the fact that Nokia is now more or less a division of Microsoft (that's a prediction that should come true sooner than you know!). Samsung was the chosen one by Google for the Android and it has emerged as the biggest Android smartphone maker in the world. While Google's support lent a lot of credibility to Samsung, Microsoft being the sole OS on Nokia now means that Nokia should get some special treatment from the OS maker - this should lead to Nokia being the biggest Windows Mobile smartphone maker as well.
It all seems to add up fine on paper. But why is no one at Nokia or Microsoft doing something on the ground? I can't see much action in India at least. Let me know if you see some...